There are several questions in a patient's mind after the Root canal treatment in Patel Nagar, like whether the treatment will be painful afterwards? Do they need pain-relievers? Post-treatment care and so on.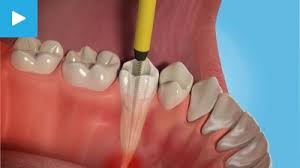 Here are the answers to all such queries and concerns clarifies by Dr Pooja Sachdeva who runs an ultra modern dental clinic in Patel Nagar:
Will it pain after the treatment?
Dentist in Patel Nagar Dr Pooja Sachdeva clarifies that the patient's tooth was in pain before actually preceding the treatment and a person takes some time to fully adopt the changes or modifications made to their body, so does the root canal treatment in Delhi. Therefore, to recover soon, it is best to get a post-treatment therapy to relieve the pain to the extent. However, if the pain is unbearable, abnormal swelling or fever is there, then consult the dentist without any further delay.
Will the pain relievers work?
Over-the-counter analgesics like Acetaminophen (Tylenol TM), Aspirin, Naproxen Sodium (Aleve™), Ibuprofen ((Advil™, Motrin™) medications typically alleviate the discomfort of pain. To prevent the discomfort of pain post-treatment, consume the painkillers before the effect of the anaesthesia wears off and take the pills for up to 2 to 3 days as prescribed the best Dentist in Patel Nagar. Remember to not take the Narcotic medicines along with alcohol, tranquillizers, histamine blockers (antihistamines), muscle relaxants, or any other combination that may upset the central nervous system.
Post-treatment care suggested by Dr Pooja Sachdeva, famous for cosmetic dentistry in Patel Nagar:
Avoid biting the tooth – A tooth after the root canal treatment generally remains on a temporary dressing and medication placed in it. Usually, a temporary filling is not as long-lasting as a permanent dressing and biting the tooth can damage or wear off the filling.
Practicing good oral hygiene – Good oral hygiene not only means brushing and flossing every day but, it includes the right technique and the correct timing. Brush every time after the meal because the underwent tooth for root canal treatment in Patel Nagar typically don't have any nerve, so it can be hard to determine that there is some cavity inside the tooth. Therefore the best way to prevent cavity is practising good oral hygiene and time to time having teeth whitening in Patel Nagar to avoid plaque buildup.